The Stone Vision Oracle is a curated collection of 27 stones that offer insight into your life. Each stone holds a message. These messages can be utilized one at a time, or can be used as a guide through a situation, or the year. It is the divination tool that guides my practice.
Lithomancy
The practice of reading stones for the purposes of divination is called lithomancy. It is not new. According to some sources, there is evidence of this practice going back to the Bronze Age.
There are many methods of reading the stones limited only by our imaginations. Each crystal, gemstone, fossil, and mineral has unique attributes. The color, shape, composition, and geographic origin all hold messages if we take to time to look for them.
I had been connecting with stones for as long as I can remember. I had tried a number of divination methods, from cards to other lithomancy methods, but none were right for me. A few years ago, I collected a set of 27 stones that spoke to me in a way that gave cohesive and consistent guidance. This set is The Stone Vision Oracle.
The Stone Vision Oracle
Each stone has an overarching theme and a set of keywords. They also have specific messages to share and questions to consider. To use The Stone Vision Oracle, I might pull a stone in the morning to see what I need to know about my day, or one before an event to see how it may go. A three stone pull will give me insight into a situation or relationship.
For planning purposes, I do a 12 month reading to prepare for a new year. This consists of 13 stones, one for the theme of my year and one for each of the 12 months. I also do a monthly reading that consists of four stones; one for the theme of the month, one for what is beyond my vision that I can not yet see, one for what I has not yet feel or sense, and then my action stone, what I need to do.
Since I began to offer readings to others, the responses to the Stone Vision Oracle have been fantastic! "Thank you for the insights.", "Spot on!", and numerous stories of events that mirror what was shared in their Stone Vision Oracle reading. I also hear how useful Stone Vision Oracle readings are for planning and decision making.
Crystals, gemstones, fossils, and minerals truly do hold messages for us if we take the time to expand our consciousness and receive the information. If you are interested in gaining insight from extra-ordinary sources, The Stone Vision Oracle might be a fit for you.
Readings are available and include single stone, three stone, and monthly readings.
During a Single Stone Reading you will share your question or concern with me and I will pull one stone from the Oracle sack for you. You will have the option to ask for additional clarity two times. This means that I will pull up to two additional stones to clarify the message of the initial stone.
During a Three Stone Reading you will share your question or concern with me and I will pull three stones from the Oracle sack for you. The first will relate to what had brought you to the current situation, the second will relate to where you are in the moment, the third will relate to what you can expect if you maintain your current course of action.
A Monthly Reading offers a full overview of your month and is available as a digital download only, a live reading with a digital PDF download, or as a package of twelve monthly readings delivered as digital downloads. This first stone in this reading shares the theme of your month, or the energy of the time period. The second stone shares where you are in the moment. The third stone shares what you can expect in your near future. The fourth stone shares a course of action for you. Specify the focus month for your reading when you check out. Digital monthly readings are done just prior to the first of the month. Select your Monthly Reading here.
A Twelve Month Reading offers an overview of the year, either a calendar year or a personal twelve month period. It is available as a digital download, a fifteen page PDF in calendar form, including the moon phases and a space for intentions. Upgrade to include a print copy sent to you via USPS. Live readings are also available. Select your Twelve Month Reading here.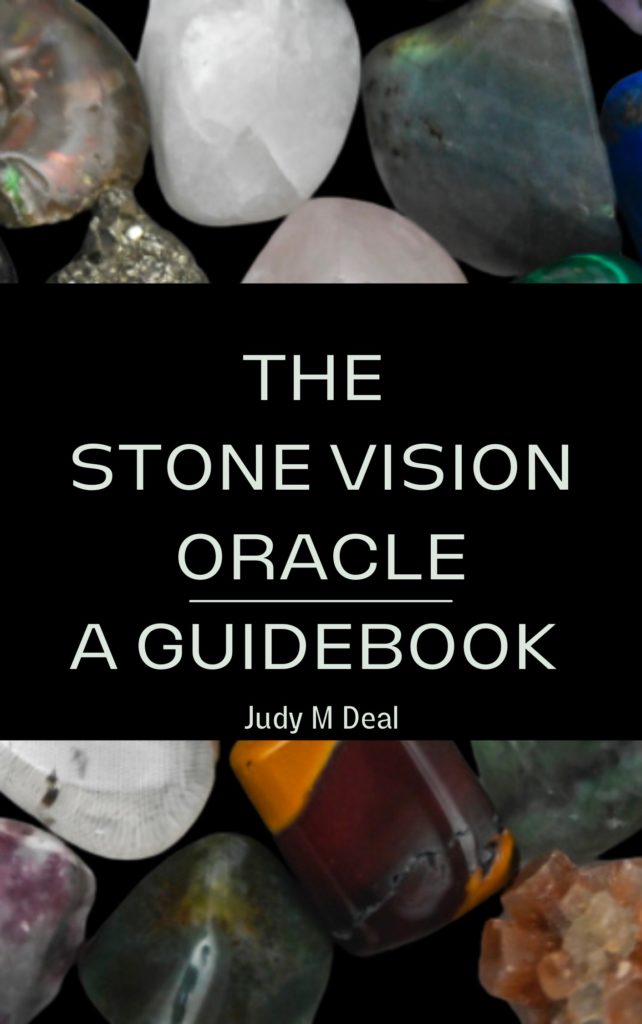 Ready for your own Stone Vision Oracle and Guidebook? It is coming soon! Use this link to be notified when The Stone Vision Oracle and Guidebook becomes available.